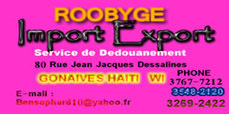 ANTONIO PHILANTROPE
REYNALD ORIVAL
WENCHELL ACHILLE
FRITZ GERALD DEMEZIER
SERGE NAPOLEON
EDOUARD MATHIEUX
ROSE RENEE LAMY
DIEUSEUL JONATHAS
ZEKI CADET
ME MARC HENRY MOISE
MARDOCHEE
DOMAINE NIGH CLUB
BORDENS RESTO
PODIUM DES JEUNES
VAVA'S DEPOT
TELNET
SEA MERCHANTS SHIPPING LINE
Dr
Marc Antoine Joseph
12429 West Dixie Hwy
Miami FL
305-981-7658
NICOLE'S BEAUTY SALON
AND BARBER SHOP
168 N.E 54 Street
Miami FL
305-772-2169
SAMUEL'S FLOWERS
305-919-8077
Paradis Parfum
954-608-7108
FRIENDLY SPONSORS
"A Network to the Gateway
Called Home."
This site, GONAYV.COM is created to better promote Gonaives, the city of independence of Haiti. It plays an upper bridge where the GONAIVIANS from all over the diaspora,will cross over until they REACH their final destination, our common ground GONAIVES.
WE SUPPORT
I CAN NEVER FORGET THE EFFORT THAT MR and MRS CHARLIE VOIGHT DID IN ORDER TO OFFER THEIR HELP TO THE CITY OF GONAIVES IN 2004,WHEN THE CITY WAS FLOODED BY HURRICANE JEANNE . THEY BOTH CAME TO MY OFFICE ON
6TH AVE N.E 148TH STREET TO VOLUNTERLY, HELP TO LOAD A CONTAINER TO SHIP TO GONAIVES CAN YOU BELIEVE THAT ?
SO THEY DESERVE TO BE PROMOTED FREELY ON THE SITE
OF
WWW.GONAYV.COM
SO IT WAS NEVER ABOUT
THE MONEY
WE GIVE CREDIT TO WHOM WELL DESERVES IT.
Francois Joachim Dessalines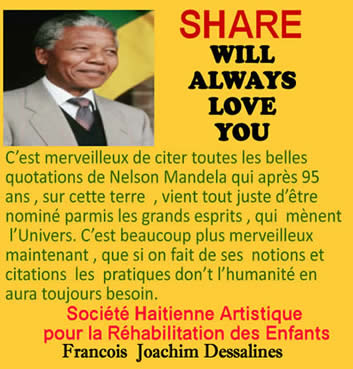 954-536-4128
ORGANISATIONS
FOR GONAIVES
AMOUGO
ALGO OF CANADA
KOMBITE GONAIVIEN
AMKSG
PARC VINCENT DES GONAIVES
Dr EDY AMISIAL
SOUTHSIDE OB-GYN
Dr Joseph Joachim Benoit
SUNRISE MEDICAL CENTER
5211 N.E 2 AVE
PHONE
305-751-1293